Welcome To Our FAQ`s
Please browse our index of terms and frequently asked questions.

If you don't see the answer you're looking for
please email us at support@notforprofitprinting.com

INDEX

Frequently Asked Questions:

We recommend using Chrome, Edge, or Internet Explorer 11 and disabling all pop-up blockers.

What are your shipping and turnaround times?
How do I track my order once it's placed?
How do I place a reorder?
How do I add logos/graphics into the online design studio?
How do I convert my file from RGB to CMYK?
My images are from a website, can I use them?
What if my file type is not acceptable for commercial printing?
What paper stock should I select?

Templates for each of our products in a .pdf format are available on each product page. Please insert templates into your design to help you create your project.

Remittance envelopes, offering envelopes, and carbonless forms cannot be printed with bleeds. Please set your files so that 1/8" margin is on each printing edge.

We also do not recommend screens or large areas of dark photos or graphics as ink transfer will occur. Please note that for large dark areas a heavy ink charge of $50 will be charged.

Please refer to our graphic guidelines for additional information.

Printing Terms:

Bleed
Colors
Cutting
Fonts
Gang Run
Graphic Guidelines
Offset Printing
Paper Finishings and Coatings
Paper Stocks
PDF
Resolution


Bleed

The portion of an image or text that goes beyond the trim size of your project allowing your job to be trimmed and have objects "bleed" off the page.

Remittance envelopes, offering envelopes, and carbonless forms cannot have bleeds. Please set your files so that 1/8" margin is on each printing edge.

Full color products require an additional 1/8" added to each side for the bleed. Set your project .25" larger in both heighth and width than the finished size of your project if you are uploading your own artwork.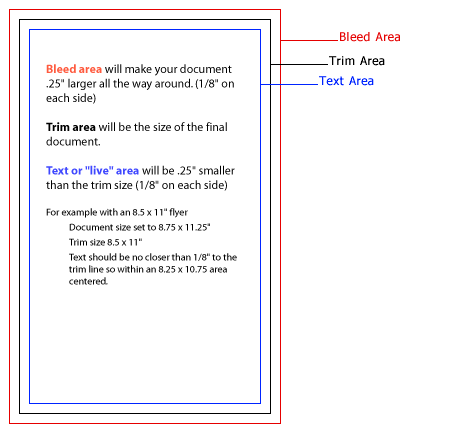 Colors
CMYK – Cyan, Magenta, Yellow and Black – 4 colors used in commercial printing. Called full color or four (4) color.

RGB – Red, Green, Blue – Primary colors used on monitors
and in desktop publishing.

Sample RGB Color Block Colors converted to CMYK


4/0 – Full color one side / no printing on the other side.
4/1 – Full color one side / 1 Color other side.
4/4 – Full color on both sides

One Color Jobs – Printed in black or blue ink, file should be set in black.

PMS – Pantone Matching System – industry standard for ink colors.

Rich Black – percentage mixture of colors usually referring to black ink. Text should be set to 100% K and 0% for each of Cyan, Magenta, and Yellow.
Cutting Paper
cutting is done in large stacks on automatic machinery. Cuts can vary from top of stack to bottom. To be sure your full color file cuts correctly add 1/8" "bleed" on each side (.25" total height and width) to prevent improper cutting. Be sure your background images and colors extend to the new edge of the page.

Remittance envelopes and offering envelopes are converted prior to printing - files must have a 1/8" margin and cannot have a bleed on any of the envelope products.

Die Cutting
Process where paper is cut in a shape or form such as business card slits in pocket folders.
Fonts
Fonts are by definition a set of characters in a specific typeface, at a specific point size, and in a specific style. They are also referred to as type and text. When you submit projects for commercial printing your fonts need to be converted to outlines/curves or paths whenever possible. To eliminate problems with fonts we invite you to use our free design studio. If you would like to send a file that has already been designed please convert your fonts by searching under the help menu in your program to learn how to do it for your specific program.
Gang Run Printing
A method where multiple print projects are placed on a common printing sheet to reduce printing costs. The advantage is that it makes full color offset printing extremely economical. Instead of paying for all the set-upcosts, prep time, and labor for your job, you split the costs between many orders. All of our printing is done in a gang-run format.
Graphic Guidelines

Graphic_guidelines.pdf

Remittance envelopes, offering envelopes, and carbonless forms cannot be printed with bleeds. Please set your files so that 1/8" margin is on each printing edge.

Full color product files should be set with an additional 1/8" bleed on each side, so the overall file will be .25" larger in height and width than the product size. Graphics, logos and images should be 300 dpi. Graphics lower than 300 dpi (like those taken from the web) will print fuzzy and pixelated.

Please note that ink transfer will occur on solid dark photos and graphics. A heavy ink charge of $50 will also be charged on heavy ink coverage.

Files should be in CMYK format (RGB files will be converted and may result in color shifts)

We recommend .pdf files for printing but we can take a high resolution .tif or .jpg file.



Offset Printing and Lithography
Lithography is a printing technology that dates back to 1798 and encompasses a five step process. The most common lithograhic printing uses the offset method, in which ink is "offset" onto a rubber-coated cylinder that is pressed against the paper. Offset printing offers the highest quality printing available.
Paper Finishes and Coatings

Aqueous Coating is a water based coating that is applied to full color print projects to provide a high-gloss surface that is resistant to dirt and fingerprint marks. This provides a shiny appearance.

Matte Finish has a satin coating instead of a glossier coating that is applied after the ink has been offset on the paper. This provides a little resistance to dirt and fingerprint marks, but not as much as an aqueous or UV coating.

UV Coating is a heavy, very slick glossy coating that is applied to the printed paper after the ink. The slick and very glossy surface makes it very eye catching and the most resistant coating to dirt and fingerprint marks.

C1S - C2S - Coating is applied to one or both sides of the paper. C1S means that coating is on one side of the project. C2S means that coating is on two sides (Coat 2 Sides). If you are planning to mail or write on one of the sides - such as the back of a business card or postcard, we suggest you do not have that side printed in full color as all of our full color projects are automatically coated. Check with your mail house if you are planning to have your project mailed as some mail houses cannot address properly due to their inkjet labeling process smearing from the finish. Ballpoint pens will also not write effectively on gloss products so if you are mailing the project yourself you will need to use a label instead of hand addressing.
Paper Stocks
Stock –specifications for paper such as thickness and opacity.

Cover Stock – Thicker, heavier paper for "covers" and projects where a thicker paper is desired. Usually termed 12pt, 14pt, 16pt, etc.

Text (or Book) Stock – commonly used for pages in brochures, flyers, etc. Usually referred to in terms of 60lb, 80lb, 100lb.

80lb, 100lb, 14pt, 16pt – Paper is measured in lbs and pts. 80lb is a standard paper weight while 100lb is heavier. Cover stocks begin being measured at 100lb cover and go up to 14pt, 16pt, etc. The higher the lb or pt the heavier the paper.
PDF
Portable Document Format. A free file program by Adobe. Captures information from publishing applications and makes it possible to send documents to be emailed, printed commercially, or printed on your desktop printer.
Resolution of Graphics and Photos (300 dpi vs. 72 dpi) Resolution is measured by the number of squares of color information that is held in an inch. Referred to as "dots per inch" or dpi. Commercial printing needs a higher resolution of 300 dpi while web images are only 72 dpi. It is not recommended to use images from the web as they will appear fuzzy and pixilated in commercial printing.

Converting to CMYK from RGB
Commercially printed documents must be submitted in CMYK format. Desktop publishing programs do not have an option to convert from RGB but professional graphics programs do. If you have a file that is RGB it can be converted to CMYK for you - but please be aware that color shifts will occur.

What if my file type is not acceptable for commercial printing? If your file has not been designed in a professional graphics program, chances are it will need converting or recreated to print commercially. We offer a free online design studio with free professionally designed templates, or complete custom design services. If you already have a file created and want to see if that file can be used, please review our graphic guidelines to be sure your file is print ready.
My images are from a website - can I use them?
Images from a website are usually 72dpi and are not commercial print quality of 300dpi. We recommend strongly that you DO NOT use them. We can print the lower resolution files but your images may appear fuzzy or pixilated. If you allow us to proceed with your order with low resolution graphics we assume no responsibility for the quality of the images on the product.

What paper stock should I select?
The higher the number - the thicker the stock. Figure out how durable you would like your printed project to be and then order a stock that corresponds with your intentions of use and budget. All of our stocks are high quality unlike many online printing companies that do not offer cover stocks and high quality papers. See our paper stocks section above.
Shipping

Not For Profit Printing offers shipping services through UPS.

Ground UPS shipping is Free within the continental US (Hawaii, Alaska and Puerto Rico please email for additional charges.

Please allow up to 5 business days for standard UPS ground shipping.

Rush UPS shipping options when available can be selected during the checkout process under UPS Rush Shipping Options for a quote.

Please note that we cannot guarantee delivery or shipping schedules once the shipment leaves our facility.

Turnaround Times are based on business days (excluding all national holidays) and do not include shipping time. Turnaround times are dislayed on each product page and vary by product. Shipping time is NOT calculated in production times and can add up to 5 business days depending on your location. Products ship from our various printing facilities across the US.
How do I track my order once it's placed?
Simply log into your account and you will see a screen with the "status" displayed. That status will show you where your order is in production. When your product leaves our facility a tracking number will be emailed to you so that you can confirm your delivery date.


How do I place a reorder?

EXACT REPRINT:
Log into your account and you will see a screen with all your previous orders. To reorder simply select option #5 on the right hand side under "MY PRODUCTS". Click on the graphic of the product you want to reorder and continue through the order process.

CHANGES TO PREVIOUS ORDER:
If you have changes please place your order, then email us with your order number what changes you would like to see to your file. A new file will be prepared and a proof will be emailed to you.

TO MAKE CHANGES IN THE DESIGN STUDIO:
To make changes in the design studio - click on the order in the order history section, and click on the pencil icon to create a duplicate of the design. Make any changes you would like to the design and continue to checkout. Please note that orders that do not display the pencil icon can not be reordered as previously printed. Please place a new order or contact us for further assistance.

TO SUBMIT ENTIRELY NEW ARTWORK:
For orders using new artwork, please start a new order with the "print-ready" artwork option.

How do I upload graphics into my "designed online" project?
Select the product that you want to order and choose a design. In the design studio select the "Add An Image" button at the top right of your screen. A new screen will come up where you can browse your computer to find the file and upload into the design. Images should be in rgb format and 300dpi resolution.